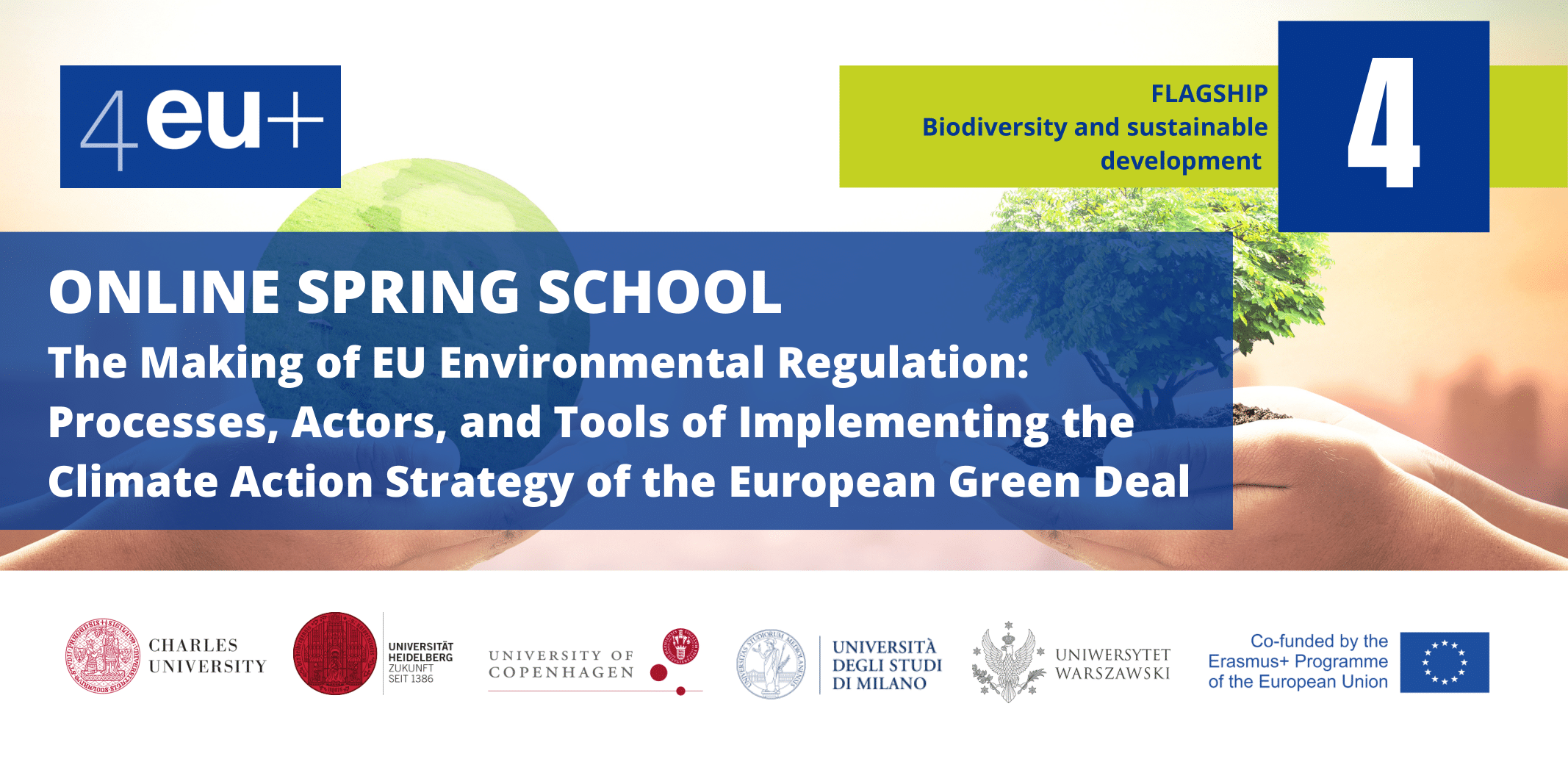 Do 20 marca trwa nabór studentów na szkołę wiosenną "The Making of EU Environmental Regulation: Processes, Actors, and Tools of Implementing the Climate Action Strategy of the European Green Deal", która będzie realizowana online w trzech blokach zajęć, od 21 kwietnia do 14 maja.
Szkoła wiosenna realizowana jest w ramach wspólnego projektu edukacyjnego 4EU+ "Towards a European School of Environmental Economics & Policy", koordynowanego przez wykładowców z Uniwersytetu w Heidelbergu.
Program szkoły wiosennej skierowany jest do studentów studiów magisterskich i doktorantów (kierunki: ekonomia, nauki polityczne i studia międzynarodowe, międzywydziałowe studia ochrony środowiska i inne pokrewne kierunki).
Zajęcia będą odbywać się w języku angielskim i będą prowadzone przez wykładowców z pięciu uczelni Sojuszu.
Wykładowcy: Søren Bøye Olsen (Uniwersytet Kopenhaski), Timo Goeschl (Uniwersytet w Heidelbergu), Vilém Novotný (Uniwersytet Karola w Pradze), Marzio Galeotti (Uniwersytet Mediolański), Tomasz Żylicz (Uniwersytet Warszawski).
Uwaga: Liczba miejsc ograniczona – dla studentów i doktorantów z UW przewidziano 6 miejsc. Zainteresowani studenci i doktoranci proszeni są o przesłanie, do 20 marca, na adres
springschool@wne.uw.edu.pl, listu motywacyjnego, wykazu ocen oraz dodatkowych informacji wskazujących na zainteresowanie tematem Szkoły (np. informacje o udziale w konferencjach studenckich i naukowych, publikacjach, itp.).
Za udział w szkole wiosennej studenci mogą otrzymać 6 punktów ECTS.
Więcej informacji znajdą Państwo tutaj